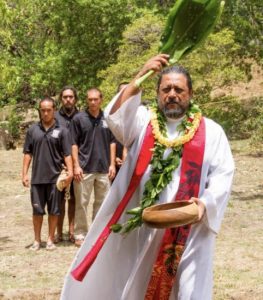 Dr. Kahu Kaleo (Iaea-Kekoanui) Patterson, comes from an ancient warrior line of chiefs related to Kamehameha the Great. He is one of the few ordained Hawaiian Priests in the Episcopal Church of Hawaii founded in 1862 by Kamehameha IV and Queen Emma.
Having served many Hawaiian Churches, on Kauai, Oahu, and Molokai, he is currently the Chaplain of Iolani Guild whose former lifelong President was Queen Liliuokalani. Kahu Kaleo is also a well known Professor in Peace Studies having developed the graduate courses in Hooponopono and Indigenous Peacemaking at the University of Hawaii, Manoa – Matsunaga Institute of Peace and Myron B. Thompson School of Social Work, where he lectured for many years.
In the community he is the founding President of the Pacific Justice and Reconciliation Center, and has traveled internationally as a Human Rights Activist, and has been a delegate and participant to many United Nations Assemblies and Forums.
Trained from childhood in many martial arts, he became prominent in Kaito Gakko Nuuhiwa Ryu with Professor Keaulani; and in Shotokan Karate-Do with legendary Kancho Hirokazu Kanazawa and Hawaii's Founder of Kaumakapili Dojo Shihan Robert Nishimura. Today Sensei Patterson focuses on peace martial arts with children and youth on the Waianae Coast promoting nonviolence and healing traditions.
He is the Chief Instructor of the historic Kaumakapili Church Dojo in Kalihi, and works closely with Professor Keaulani in Kaito Gakko Nuuhiwa Ryu programs.
It is also important to note that Dr. Kahu Kaleo Patterson is also the President of the Native Hawaiian Church recognized by the Department of Public Safety, founded in 2006 conducting Makahiki Paahao Programs at Waiawa Community Correctional Center, Halawa Community Correctional Center and Oahu Community Correctional Center.
Kaito Gakko Hawaii works in conjunction with the Native Hawaiian Church on Makahiki culture-based programs both in Prisons, and with re-entry Ola i ka Aina!