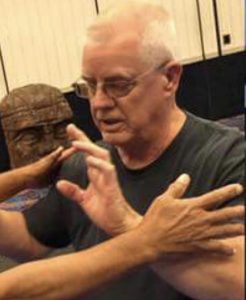 Professor Jerry Walker is a well-known and beloved martial artist, and Hospital Administrator in Hawaii. It seems true, what they say, when we see both martial arts and healing traditions together as in Professor Walker, this is pono!
This very gentle humble Professor is best regarded as a member of the small group of haumana – students who studied with the Lua Kumu Olohe Charles Kenn in the mid 1970's and on. Lua Kumu Olohe Kenn was a Judo, Jujitsu, and Lua practitioner, who studied under Professor Seishiro Okazaki (1890-1951) the Grandmaster of Danzan-Ryu Jujitsu of the Kodenkan System that was introduced in the Territory of Hawaii in 1924.
Professor Jerry Walker and the other dedicated students of Kumu Olohe Charles Kenn through their studies became committed to the preservation of the ancient art of lua. This handful of kanaka maoli were — Richard Kekumuikawaiokeola Paglinawan, Mitchell Eli, Moses Elwood Kalauokalani and Jerry Walker — together they revitalized and redefined the ancient and once secret art of lua. Now they take the responsibility of passing on the knowledge to future generations in "Lua: Art of the Hawaiian Warrior," essentially an introductory text offering the history, philosophy, techniques, weapons and current training practices of the Hawaiian fighting art.  Professor Jerry Walker is a dedicated teacher, advisor, and instructor of Kaito Gakko Hawaii, and the Judo, Jujitsu, and Lua traditions of Nuuhiwa Ryu.