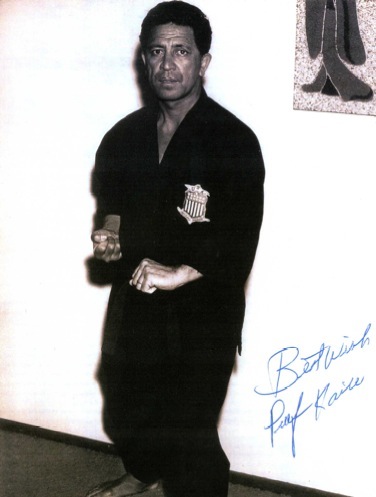 Kaito Gakko Nuuhiwa Ryu – A Hawaiian Tradition

Kingsley and Joyce Nuuhiwa,
Archives and History
Professor David Kawaikoolihili Nuuhiwa from his early childhood absorbed the teachings of many masters and schools and expanded his learning's by traveling extensively throughout Asia Pacific and the world.  It was during his travels that he was given the title of 12thdan and the name Dr. Kaito.

He teachings include those of Dr. James Mitose, and Professor Henry Okazaki, Professor Willie Chow,  Shihan Gozo Shiroda and Nuuhiwa Ohana-based forms of Hawaiian Lua.  In his lifetime he was a dedicated student of the martial arts.  Always eager to teach others he developed many new forms and techniques, which are taught today by his students.

He was internationally known through his martial arts matches and tournaments in the late 40's and throughout the 50's, winning many matches and tournaments.

The basic philosophy of Kaito Gakko today is similar to the Hawaiian concept,  "not all learning comes from the same school".   Kaito Gakko's new leader Professor Bruce Keaulani states, we are truly a school of schools and we are clear today that our mission is to "create a culture of peace and nonviolence for the children of the world".

Kaito Gakko promotes the philosophy of peace and nonviolence through diligent study and practice of martial arts as a way to promote confidence and character, compassion and effort.  The underlying principles in our organization are what we call Aloha (Love) and Pule (Prayer).  These Hawaiian values and traditions are what guide the development of our students to be the best that they can be as good and healthy human beings full of dignity and respect for all of life.

OTHER HISTORY – BIOGRAPHY LINKS:

http://www.kempokarate.com/nuuhiwa_bio_1.cfm